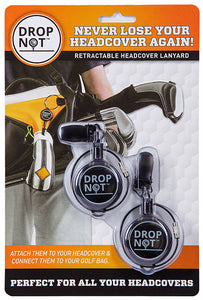 THE ULTIMATE HEAD COVER UPGRADE!
The Drop Not Retractable Golf Lanyard has been designed to give you confidence and reliability that you will Never Lose Your Head Cover when out on the course.
Great for you or your golf enthusiast, family members, and friends.
NEVER LOSE YOUR HEAD COVER AGAIN!
Our packaging has been developed to understand the Drop Not product features and benefits quickly.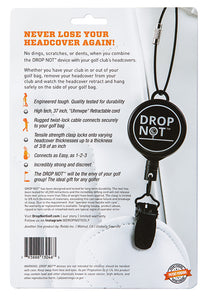 Easy to Install
DROP NOT™ was engineered tough to be easily installed on any bag and head cover.
Connect all Covers
DROP NOT™ allows you to stay focused and uncluttered during game time.
Protect your Investment
Never Lose Your Head Cover Again! Reduce scratches, dings, and dents when protecting your golf clubs with DROP NOT™ on your head cover.
Watch Videos
Never Lose your Head Cover Again! The Ultimate Head Cover Upgrade is Now Available for Sale on Amazon and at Retail Stores.
Testimonials
"Great product and the quality of construction was surprisingly solid. I can see the Drop Not lasting years. If you lose your putter covers, this product will pay for itself within your first couple rounds of golf ⛳️🏌🏼‍♂️"

Luke G. - Amazon
"No more asking the pro-shop if someone turned in my head cover. This really works."

Michael G, M.D. - Amazon
"Whoever thought about this idea he is genius. It is a very easy-to-use​ great product and it comes in 2 packs. I gave the extra one to my best friend that I play golf with he loves it. Thinking about buying a bunch and giving all my golfer friends a gift something they can remember even years later."

Necati O. - Amazon
"Drop Not | Never Lose Your Golf Headcover Again Retractable Clips arrived in a timely manner and performed as expected. I am going to recommend the clips to my golf buddy because he is constantly looking for his head covers."

Clubber L. - Amazon
"These are great if you like to keep your covers on your clubs during a round. I got one each for the three woods in my bag. I used to leave my club covers in the car and listen to them clank against each other rather than risk it falling off my push cart after using the club and neglecting to put the cover back on immediately. These alleviate that concern. I pull the cover off my club and generally let the cover hang on top of the rest of the clubs as to not stretch the cord continuously. Sometimes the cover falls off my bag, but this little gadget keeps it safe and tied to my bag until I remember to cover my club again. Very useful for my purposes. Highly recommended. I plan to buy extras in case the retractable cord snaps on one of them from continued use."

Leo - Amazon
NEW with all Purchases
The Split Key Ring allows you to connect up to 2 Drop Not devices using one connection point to your bag.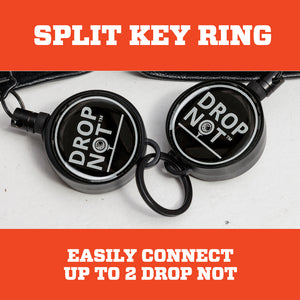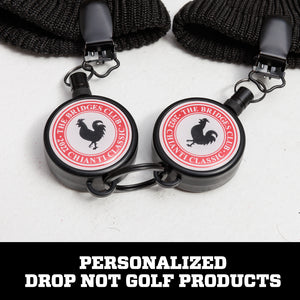 Branded Drop Not Laynards
Personalized Drop Not Devices are available upon request. We proudly co-brand our products for your golf course, events, and more. Call us Today.